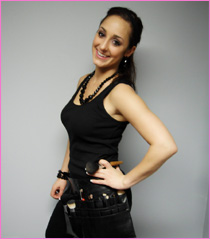 When it comes to exquisite makeup and hair services, Makeup By Nikki D is the vendor of choice for good reasons. They provide onsite makeup and hair services for weddings and all other special occasions in the Tri-State area. Makeup By Nikki D is not your ordinary beauty team. They are professionals who are highly committed to their clients' needs and differ in their mastery of hair and makeup to last longer with defined style and sophistication. They are not only premier artists, but innovators educating their clients on using the correct products. They are a team of dedicated artists and will not book more than one event per team member. The team does not leave until everyone is fully satisfied with their individual results.


The Knot (www.theknot.com) is the Internet's most trafficked one-stop wedding planning solution. Founded in 1996 to offer a much-needed alternative to the white-gloved, outdated advice of the available etiquette experts, The Knot has quickly become America's leading wedding brand reaching out to millions of engaged couples each year through our award-winning website, books, magazines, and broadcast offerings.

Makeup by Nikki D has been awarded the 2013 "Best of Weddings" by The Knot.